Call our reception to make a booking today. If you are not sure who to book with we can help you to choose the right practitioner to suit. Contact us. 
Welcome to the Bardon Counselling & Natural Therapy Centre.
Located close to Brisbane city in the peaceful suburb of Bardon,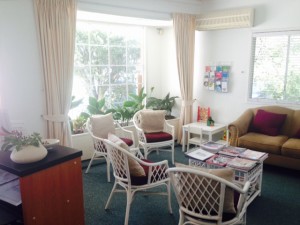 this centre has been providing quality care for over forty years. With more than twenty well qualified and experienced professionals, we offer a range of modalities to benefit your physical and mental wellbeing. The centre consists of two parts: a clinic with eleven consulting rooms where professionals run their private practices, and the group room where regular weekly yoga classes and various weekend workshops are held.
Many people visiting the Centre comment on its welcoming and relaxing atmosphere. Close to the city, this building has a rainforest outlook at the back, and a pleasant ambience. Our practitioners are respectful, sincere and effective, providing genuine care and reliable help for a range of psychological and physical issues. At the Centre you will find quality practitioners and a peaceful atmosphere.
Selena, Rhonda, Robin, Christine, Rani and Mel are our friendly and very capable receptionists. If you are not sure which modality or practitioner would be most suitable for you, they will guide you to the most appropriate person for your needs.
The modalities we offer are: